Higher Gossip
From Soren Kierkegaard to dinosaurs, from Albert Einstein to the mechanics of golf, "Higher Gossip" is a delightful posthumous collection of the late writings of John Updike.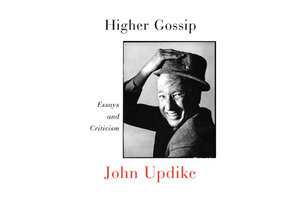 By the time of his death at age 76 in 2009, John Updike had secured his place as a master of American fiction, a reputation based largely on the "Rabbit" novels following his fictional protagonist, Harry Rabbit Angstrom.
But Updike was also a exemplary craftsman of nonfiction, publishing collections of his essays and reviews about once every eight years. "Due Considerations" appeared in 2007, and Updike's inoperable lung cancer forced him to accelerate his typical production schedule, beginning the book that could be his final major nonfiction collection, Higher Gossip.
Updike could not, alas, complete the project, so editor Christopher Carduff stepped in to assemble the material, which follows the scheme of previous books in drawing on Updike's previously published articles for The New Yorker and a few other national journals, as well as some speeches and assorted prose oddments.
Carduff also provided the title, which refers to Updike's definition of the ideal review as "gossip of a higher sort" – something elegant, but also charged with the subtle spark of news.
This chatty ideal of prose suited Updike's emphasis on fresh expression in his writing, a philosophy perhaps best encapsulated in a 1984 speech included here, "In Defense of the Amateur Reader." Updike suggests that for the scholar or professional reviewer, literary commentary can easily succumb to the sameness of the assembly line – literature as the next dreary assignment. Such dangers, in Updike's view, argue for the virtue of the more occasional reviewer, a person who can feed our desire "to be astonished and startled and at some deep level refreshed."
---
Follow Stories Like This
Get the Monitor stories you care about delivered to your inbox.