11/22/63
Stephen King whisks readers back to 1963 in a piece of time-traveling historical fiction that asks: What if JFK had survived?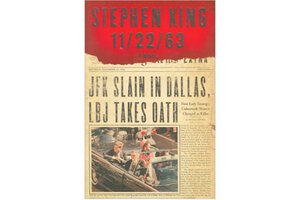 Leave it to Stephen King to take one of the greatest horrors of the 20th century – JFK's assassination – and make it even worse by undoing the entire episode.
Spare Kennedy from Lee Harvey Oswald's bullet at Dealey Plaza in Dallas and prepare for former Alabama Governor George Wallace to become the 37th president.
His election follows an era devoid of Civil Rights triumphs. In King's alternate take, LBJ's mastery of legislative power remains untapped in the office of the vice president.
"The Republicans and Dixiecrats filibustered for a hundred and ten days; one actually died on the floor and became a right-wing hero," he writes. "When Kennedy finally gave up, he made an off-the-cuff remark that would haunt him until he died in 1983: 'White America has filled its house with kindling; now it will burn.' "
Such stomach-churning fun-house mirror episodes loom among many unintended consequences in 11/22/63, a piece of time-traveling historical fiction that makes the what-if game intensely personal and terrifyingly broad all at once.
It begins with the owner of a small-town diner in Maine named Al Templeton, who is dying of cancer. Locals have long wondered about Al's Diner because of its Fatburgers, priced to move at $1.19.
---