The Dovekeepers
Alice Hoffman offers a feminist take on the siege of Masada in what may be her best novel yet.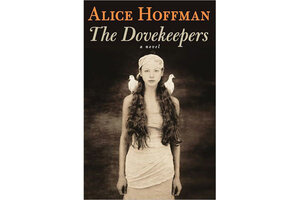 Few times in history has the phrase "death before dishonor" been taken to such an extreme as at the siege of Masada. After holding out for months against the Romans, more than 900 Jews, including children, died in a suicide pact rather than surrender.
Only two women and five children survived the the first century A.D siege, according to the historian Josephus, who published the only known account.
In The Dovekeepers Alice Hoffman travels far from the New England setting of bestsellers such as "Practical Magic" and "Here on Earth" for the biggest, most ambitious book of her career. And, for the most part, she succeeds – delivering her best novel in years. Fans of both Hoffman's earlier work and Anita Diamant's bestselling "Red Tent," another feminist take set in Biblical times, should devour the multipart epic.
Hoffman views the siege from the eyes of four outsiders: Yael, a girl who arrives pregnant with her dead lover's child; Revka, who is tending her two grandsons, who have not spoken since witnessing the torture and murder of their mother; Shirah, a witch with ties to the Zealot leader; and Shirah's daughter, Aziza, who was raised as a warrior by her foster father in Moab. All the women are assigned to care for the dovecotes, which supply fertilizer for Masada's gardens, a lowly task that allows them more freedom. In the beginning, the women, who are all guarding secrets, are wary of one another, but they ultimately form an alliance.
---