Pearl Harbor: FDR Leads the Nation into War
What did FDR feel on Dec. 7, 1941? Historian Steven M. Gillon brings the day Pearl Harbor was bombed into sharp relief.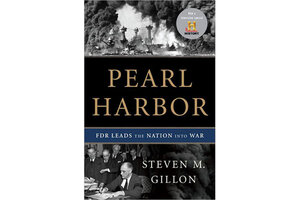 Everyone around Franklin D. Roosevelt was filled with shock and horror as the news from Pearl Harbor reached the White House. The president shared their emotions, but he had one more to add to the mix.
FDR was relieved. "His terrible moral problem had been resolved by the event," wrote labor secretary Frances Perkins.
The long prologue was over and the first chapter he'd long awaited could finally begin. At last, the United States could shed its contorted innocent-bystander guise and enter the world war that so many Americans – but not him – deeply wanted to avoid.
But how? FDR had plenty of choices, many more than hindsight – always fuzzier than 20/20 – might suggest. Some of the decisions he made on Sunday, Dec. 7, 1941, would lay the groundwork for great triumph. But at least one would, to borrow a phrase, live in infamy.
Meanwhile, leaders in Berlin, Tokyo, Moscow and London made choices of their own. They plotted. They miscalculated. And they didn't know what each other would do or whether a single very bad day for the US would get incredibly worse.
In time for the 70th anniversary of the attack, three new books attempt to capture the events of December 1941 by zooming in on specific time spans. Two are fine if unexciting efforts, while one vividly brings 24 hours from Dec. 7-8 to life, virtually minute by minute.
---