Jerusalem: The Biography
Chronicling the world's holiest city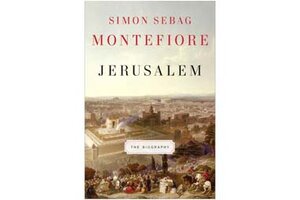 Jerusalem is one of the few places that has universally attracted the envious gaze of all varieties of the world's people. In 1195, Pope Urban II spurred on the First Crusade, more than a bit peeved that the Holy Land remained firmly in Muslim hands under his Catholic watch. Centuries later, American readers turned "Innocents Abroad," Mark Twain's chronicle of his odyssey through Europe and the Middle East in which he pays a visit to the sacred city, into an overnight bestseller. Yet even the Western fascination with Jerusalem often paled in comparison to the fury with which the city's nearby inhabitants routinely battled over territories, worship rights, and perceived slights by competing sides.
Simon Sebag Montefiore, himself the scion of a powerful Jewish family that figured prominently in the modern history of Jerusalem, tackles the violent and convoluted past of this important city in his book Jerusalem: The Biography. As he declares in the preface, Montefiore aims to, "write the history of Jerusalem in its broadest sense for general readers ... without a political agenda."
Montefiore largely succeeds in remaining apolitical, freely criticizing the Jews, Muslims, and Christians of all eras who each managed to undertake more than their fair share of inadvisable, and often ghastly, punishments, reprisals, and persecutions. "Heads dashed against walls" and "wreaking a genocidal vengeance" are typical phrases from a work that does not for a page shy away from the bloody tales of a city that, ironically, has always purported to represent the opposite: divinity, salvation, and piety.
---