Salad for Dinner
A hearty helping of recipes from author Jeanne Kelley will have you excited about eating your leafy greens.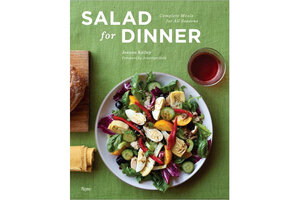 Reviewed by Peter Lewis for The Barnes & Noble Review
At the end of the day, the question is: Will these salads sate the trencherman? Yes, they will, for they are of the tradition that begs another question: When does a salad stop being a salad and start being a plate of meat or fruit or cheese or beans or any or all?
Jeanne Kelley's salads, in Salad for Dinner, are of the variety that you-know-them-when-you-see-them: mixtures – though they can be just two ingredients – probably cold or room temp, probably at least a leaf of green in there somewhere, probably dressed and tossed, if also arranged.
It wouldn't be right to call the salads burly, but they do have a low center of gravity, however light on their worldly feet. And they are from all over the world – Argentina, Morocco, Indonesia, Korea, the Caribbean – running from vegetarian to seafood, poultry, and meat models. They are as simple as roasted tomatoes, arugula, and a cheese of choice and as involved as sautéed duck breast with kumquats, baby broccoli, dried cherries, and five-star vinaigrette.
---