Enemies: A History of the FBI
Pulitzer Prize-winner Tim Weiner explores the fascinating but disquieting history of the FBI.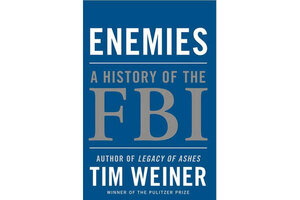 FBI Director for life J. Edgar Hoover – he died in office at age 77 after 48 years in the job – could be way ahead of the times or far behind them. In the late 1940s, he was the first public official to raise the specter of nuclear, chemical, or biological weapons being smuggled into the United States. In the 1950s and early 1960s, his agents were more attentive to the purported threat posed by America's nascent civil rights movement than they were to the activities of Mafia or the Klu Klux Klan.
Some of Hoover's quirky policy decisions could be explained by his personal animosities: As a top FBI official put it, "He was very consistent throughout the years. The things he hated, he hated all his life. He hated liberalism, he hated blacks, he hated Jews – he had this great long list of hates." He wasn't that keen on women, either. His FBI agents were virtually 100 percent male and white.
In his fourth book, Enemies: A History of the FBI, Tim Weiner provides an exhaustive chronicle of the FBI's dealings with the intelligence portion of its portfolio from its humble beginning in 1908 to its performance before and after 9/11. Weiner, who won a Pulitzer Prize for his coverage of national security topics for The New York Times, knows chapter and verse. He also makes use of recently declassified documents, oral histories by FBI agents, and Hoover's own intelligence files. "Enemies" is a compelling and chronological read which could have been improved with better transitions and connections between episodes. Sometimes the stories come rapid fire one after another, and the reader is left longing for a bit more context or analysis.
---