A Wedding in Haiti
Author Julia Alvarez and her husband Bill travel to Haiti for a wedding – and then find themselves tied to a country and a culture.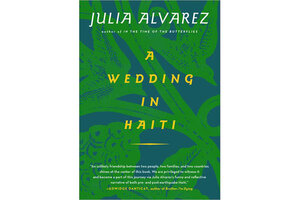 Neither Julia Alvarez nor her husband Bill can remember exactly when she fell in love with a Haitian boy named Piti. But both distinctly recall the first meeting, which happened in 2001 on one of their many trips to Alvarez's native Dominican Republic. "[S]hort and slender with the round face of a boy," Piti – whose Kreyòl name means "little one," was 17, 19, possibly even 20. "Somewhere in Haiti," Alvarez realizes, "a mother had sent her young son to the wealthier neighbor country to help the impoverished family." Never having experienced childbirth herself, something about Piti nonetheless releases "unaccountably maternal" feelings in Alvarez: "Who knows why we fall in love with people who are nothing to us?" she muses.
Piti becomes ingrained in the hearts and lives of both Alvarez and Bill as they travel frequently from their Vermont home to their organic coffee farm in the Dominican mountains, where Piti comes to work. One night, Alvarez promises she will be at his wedding, "[o]ne of those big-hearted promises … you never think you'll be called on to deliver someday." Eight years later, 'someday' arrives … and so begins Alvarez's latest – her 22nd! – title, A Wedding in Haiti.
A week before the Aug. 20, 2009, nuptials, Piti announces his intention to marry Eseline, the mother of his infant daughter, and wants to know: Are Julia and Bill coming?
---