A Sense of Direction
This first-rate travel book is – like all the best travel books – most fascinating when it has the author at its center.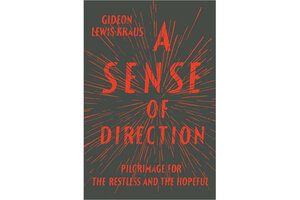 I confess it took me a few dozen pages to figure out that I was enjoying A Sense of Direction and about a hundred to realize how terrific and original and entertaining it is. I don't know that Gideon Lewis-Kraus built that delayed pleasure into the writing or if it's simply that the better we know him the more we enjoy him.
He begins by introducing us to his dissipated late-20s artistic life in San Francisco and Berlin, where his ambitions as a writer have drifted into aimlessness: "As it became increasingly clear that my era of inconsequence was not going to end in Berlin ... I began to hope that it might end with Berlin. If moving to Berlin had not left me altered, alert and grateful and decisive, perhaps moving away would." He and another writer decide the Buen Camino pilgrimage in Spain could be amusing, might give them "a sense of direction," and so they venture off onto it. The satisfaction of grinding through a pilgrimage certainly includes the awareness that one doesn't have to: "What makes it meaningful is that it's really hard but it's something anybody could do if he or she made the commitment to do it."
The son of rabbis, Lewis-Kraus is ashamed of his ignorance of all matters religious, but he loves the directed-path ritual, which requires not believing but doing. As his younger, more even-keeled brother Micah reminds him, "You are not doing this to have fun or not have fun, you are doing this to see why other people do it, and why most people, at least sane people, do not do it. Don't forget ... you did, after all, choose to do this.... Every time you don't stop and come home you're choosing to continue."
---