The Obamians
Is there an Obama Doctrine? 'The Obamians' leaves room for doubt, but it does provide an interesting look at the inner workings of the president's foreign policy team.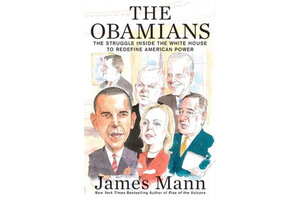 In early 2011, when CIA intelligence suggested that Osama bin Laden might be in a compound in Abbottabad, Pakistan, President Obama asked for specific military options to be developed. Though some members of his administration, including Defense Secretary Robert Gates, were skeptical about striking the compound given the uncertainty about Bin Laden's presence there, Obama chose the most aggressive option, a special operations raid on the compound.
Obama not only chose the option that would most damage relations with Pakistan, he made sure that there were plans for military engagement with Pakistani forces if they confronted American soldiers during the operation.
The Pakistan raid is one of several events examined in James Mann's book, The Obamians, which takes us behind the scenes to reveal the complex character and inner workings of Obama's foreign policy team. It is the successor to "Rise of the Vulcans," Mann's 2004 profile of George W. Bush's foreign policy advisers.
Mann, a former foreign correspondent for The Los Angeles Times, describes the two central camps of the Obama team – the politically experienced members of his cabinet and the younger aides who form his inner circle of advisors. According to Mann, these less experienced aides entered the White House knowing "less about the nuances and subtleties of an issue, and they were less concerned with practical details of governance." He is quick to note that they were "more adept at providing a determined opposition to Republicans, and much better at figuring out what to say in public about foreign policy."
---