Showdown at Shepherd's Bush
'Showdown' is a peek into a fascinating moment in time at the Olympic Games.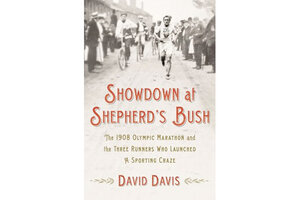 One of the most enduring photographic images from any Olympics is wobbly-legged Italian marathoner Dorando Pietri approaching the finish line with a various officials and British bobbies providing close escort. The year was 1908, at the first of three London Olympics, which makes the snapshot especially interesting as a field of male runners prepare to toe the line for the closing event at the current London Games.
The 1908 race is described as the most controversial in Olympic history by David Davis, who chronicles what happened before, during, and after this landmark event in Showdown at Shepherd's Bush: The 1908 Olympic Marathon and the Three Runners Who Launched a Sporting Craze. The story focuses on three runners: Canada's Tom Longboat, Italy's Dorando Pietri, and America's Johnny Hayes.
The controversy surrounds the end of the race, which saw 56 competitors head off on an uncharacteristically warm day in London from Windsor Castle.
As it turned out, Longboat, the pre-race favorite and an Onondaga Indian who hadn't lost a race longer than 15 miles in thee years, dropped out well before the finish. Pietri was the first into the stadium. Confused, he began to circle the track in the wrong direction and had to be redirected. Exhausted, he collapsed on the cinders fives times, causing such concern that medical attendants came to his aid. Revived just enough, he staggered, accompanied by a phalanx of nonrunners, to victory – or so it appeared.
---