Dearie
Julia Child's great success was built on both a willingness to innovate and an utter devotion to her craft.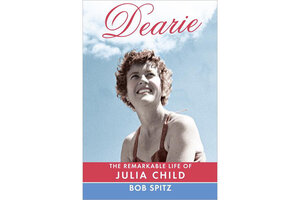 Julia Child has had an extraordinary impact on American culture. One only need note the rise of the Food Network, the spread of celebrity chefs, the ubiquity of wine at restaurants, and the overwhelming trend of foodie-ism to gauge the depth of her influence. She was a groundbreaker, too, as a successful career-woman and a popular television personality among men and women alike, when being a housewife was the norm for women of her class.
Bob Spitz, author of the bestselling "The Beatles," has compiled a comprehensive and compelling biography in Dearie: The Remarkable Life of Julia Child, that also functions effectively as a history of 20th-century American culture on topics ranging from the evolution of the O.S.S. to the quirks of public television. At 530 pages, it's not for the faint of heart, but it's sure to satisfy those with appetites whetted by the memoir turned film, "Julie and Julia," who crave more of Child's early life and later success.
Julia McWilliams' youth was remarkable only for her outsized personality and utter lack of interest in cooking. Born to a wealthy Republican Pasadena family, she was raised to be a demure debutante. The only signs of future celebrity lay in her role as adventurer, instigator, and rule-breaker, whether by claiming leads in schoolyard skits, smoking, or being rescued from the chimney of a vacant house she'd broken into. She wasn't much of a student at prep school or at Smith College, in Northampton, Mass., where socializing fueled her more.
---