The Distance Between Us
Reyna Grande's memoir of Mexican illegal immigration puts a face on a political issue.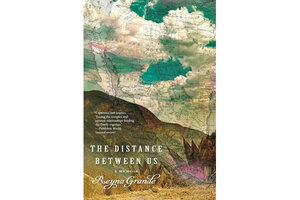 For over a decade, Congress has debated the DREAM Act. The bill would grant permanent residency to illegal immigrants who grew up in the United States and who argue they belong more to this country than the one they were born in. Needless to say, the bill is a political football, especially in this election year. Candidates alternatively portray illegal immigration as one of America's best traditions and the last straw for a weak economy.
While politicians and the public make up their minds, a generation waits. Policy nuances aside, at the heart of the bill is a question of whether we, the United States, want to claim these children as our own, nurture them, and ultimately trust them to take care of us. The question is deeply familiar to Reyna Grande, a 30-something author who has hovered her entire life between Mexico and the United States, between her mother and her father. She tells her achingly sad story of waiting to be wanted in her memoir and third book The Distance Between Us.
Grande's father illegally crossed into the United States in the late 1970s, leaving his wife and three young children in Mexico. Like many, he went to "El Otro Lado" – the Other Side – to make money and eventually return to his hometown with enough cash to build a house and steer his family out of poverty.
A year later, Grande's mother left for El Otro Lado, too. Her husband had summoned her, she told the neighbors proudly, because he needed her help. She left the children with their paternal grandmother, promising she would return in a year.
But Grande's mother never returned – at least not as the same person who tenderly told her children goodbye. The first half of Grande's memoir, called "Mi Mamá Me Ama" or "My Mother Loves Me," chronicles her and her siblings' longing for their mother and the abuses they suffer at the hands of relatives and friends for being orphaned.
---