Aftermath
Rachel Cusk has been accused of violating her family's privacy, but 'Aftermath' remains a brilliantly observed memoir.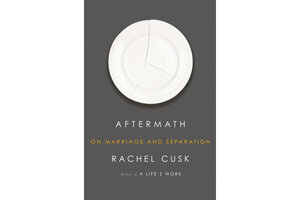 When an excerpt of British novelist Rachel Cusk's new memoir, Aftermath: On Marriage and Separation, ran in The Guardian last February, a tsunami of vitriol lashed Cusk's work. Similar excerpts in The Telegraph and Granta drew equal ire for what one Guardian commenter described as dirty laundry "tarted up in literary language," self-absorbed and cruel to her daughters and husband. There's no doubt that "Aftermath" is a work of narcissism, a deeply personal account of Cusk's shattered marriage that leaves little room for her husband's side of the story.

But there is truth in this narcissism. As Cusk writes, in the depths of bereavement, seeing outside of yourself is nigh impossible. Her work is weighted with the selfishness of the recently split – every object in her life seems to sing the details of the divorce. No activity, however mundane, can avoid representing a meaningful lesson about the nature of grief. A trip to the dentist to have a tooth extracted leads Cusk to revelation. "It is happening: things are being changed, having been unable to change themselves."

As Cusk explains, "Aftermath" is a way of combing through the debris after the storm passes. It is the dark ages after the barbarians have stormed the castle, the chaos when a civilization implodes. There is comfort in the wreckage. "I've wondered from time to time," Cusk writes, "whether it is one of the pitfalls of modern family life, with its relentless jollity, its entirely unfounded optimism, its reliance not on God or economics but on the principle of love, that it fails to recognize – and take precautions against – the human need for war."
It leans towards histrionic, and it's easy to see the objections against Cusk's impulse to magnify every detail of her tragedy until it becomes an all-enveloping landscape. Reading "Aftermath" feels like being trapped in a trance. Cusk's prose is heavy and atmospheric. She harbors a near-Sontagian delight for one-liners, and certain metaphors crop up multiple times. "Like seeing a shadow without being able to see what cast it" describes both her new single life and the conversational shorthand she imagines couples on the street having. Her writing vacillates between strikingly beautiful and wearyingly overwrought, like a room filled with too many patterns.
---