Every Love Story Is a Ghost Story
New Yorker writer D.T. Max offers up the first full-length biography of David Foster Wallace.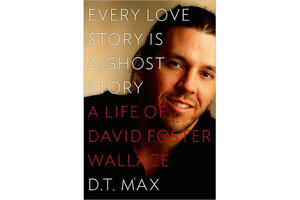 In March of 2009, the New Yorker published an essay on David Foster Wallace by the staff writer D. T. Max. The essay, appearing six months after the novelist's suicide, told the story of Wallace's final months: how he decided to go off Nardil, an antidepressant he'd been on for more than 20 years; how this decision was triggered both by professional despair (Wallace seemed unable to finish what he called the "Long Thing," his follow-up to his 1996 novel "Infinite Jest") and by personal happiness (his recent marriage to the artist Karen Green); and how it all ended horribly, with Wallace hanging himself in his home in Claremont, Calif.
Wallace's struggles with depression and his own work were largely unknown, and Max presented this sad, shocking story with sensitivity and intelligence. When it was announced that Max would write the first full-length biography of Wallace, fans rejoiced.
Alas, Max's book, Every Love Story Is a Ghost Story: A Life of David Foster Wallace, has arrived, and it's a serious disappointment. The book's faults are many. The literary analysis is shallow, the writing clichéd: if Max mentions Wallace's Midwestern upbringing, for instance, you can be sure that talk of "normality, kindness, and community" will follow. Wallace is never placed within the broader tradition of 20th-century fiction (for all it's mentioned in this book, literature might not have existed before 1945). Worst of all, there's no story here. Max merely lists one darned thing after another, and we're left with a bunch of lifeless facts rather than with any coherent reading of Wallace's life, his work, and the relation between the two.
---