Strom Thurmond's America
Strom Thurmond, the Senate's champion of segregation, endured long after the Dixiecrats were history.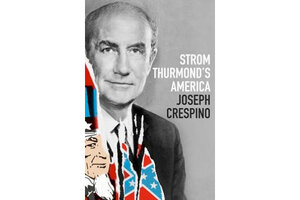 By Barbara Spindel, for The Barnes and Noble Review
One of the signal moments of Strom Thurmond's lengthy political career was his record-breaking one-man filibuster opposing the 1957 Civil Rights Act. During his speech – which stretched for 24 hours and 18 minutes – the South Carolina senator nibbled on cold steak, slipping away during a procedural interruption for just one brief bathroom break. Reading Joseph Crespino's fine new biography, Strom Thurmond's America, one is struck by the thought that Thurmond's life as a whole was marked by endurance. After being elected governor of South Carolina, the strident segregationist ran for president in 1948 as a Dixiecrat – representing the southern wing of the Democratic Party – before settling in to a nearly half-century stretch in the Senate that ended in 2003, when he was 100. Another sign of his knack for survival: the fact that he had fathered a black child, which surely would have destroyed his political prospects, remained hidden until after his death.
That revelation has earned Thurmond a reputation as "one of the great American hypocrites," Crespino writes, because he has long been associated with unreconstructed racism. While Thurmond normally used the coded language of "states' rights" and "law and order" when discussing racial issues, he at times devolved into outright racist demagoguery. In the run-up to his 1948 presidential campaign, for instance, Thurmond gave a speech in which he vowed, "There's not enough troops in the army to force the southern people to break down segregation and admit the nigger race into our theaters, into our swimming pools, into our homes, and into our churches."
---