Winter of the World
The second book of Ken Follett's 'Century' trilogy is a gift to lovers of popular fiction.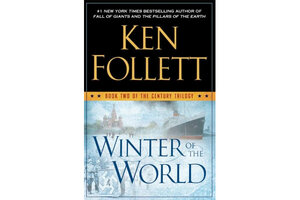 Two years after turning out a 1,000-page historical novel, the first in a planned trilogy spanning the 20th century, Ken Follett returns to strain the backs of booksellers and readers everywhere.
Much like the previous installment, Winter of the World clips along at a brisk pace. The historical novel takes readers inside the political battles and atrocities of Nazi-era Germany, fascists fighting a motley crew of European rebels in the Spanish Civil War, and disillusionment spanning the governments of Stalin's Russia. Uncertainty reigns, too, amid the bombing blitz in Britain and America in the wake of Pearl Harbor.
Once again, Follett concentrates on five fictional, interrelated families to bring the period to life. "Winter of the World" begins in 1933 with the rise of Hitler and ends in the Cold War nuclear age. In between, the families, hailing from Russia, the United States, England, Germany, and Wales mingle with real characters, including FDR and Harry Truman.
Historical fiction, in the hands of Follett and other writers, remains the terrain of circumstance, coincidence, and cameos. The key, as with all novels, is to develop characters who evoke empathy or, at minimum, pique curiosity. Historical fiction, by its nature, ups the ante for the writer to come up with compelling people to match the real-life characters always threatening to overwhelm all else. How does an author's creation fare in comparison to the horrible but fascinating character of Adolf Hitler?
---