Glittering Images
Camille Paglia's willingness to go out on a limb with her artistic opinions makes 'Glittering Images' a lively read.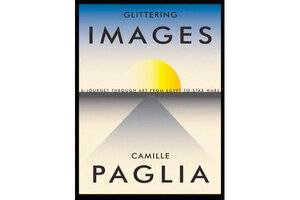 By Stefan Beck, for The Barnes and Noble Review
In 1817, a Frenchman abroad in Italy found himself at Florence's Church of Santa Croce. There he made the acquaintance of a friar and, he later wrote, "begged him to unlock for me the chapel in the north-east corner of the church, where are preserved the frescoes of Volterrano. He introduced me to the place, then left me to my own devices." What happened next is recorded in the annals of both literature and psychiatric medicine. "Absorbed in the contemplation of sublime beauty, I could perceive its very essence close at hand…. As I emerged from the porch of Santa Croce, I was seized with a fierce palpitation of the heart…and I walked in constant fear of falling to the ground."
Stendhal syndrome, named for the famous Frenchman who described it in his travelogue "Rome, Naples, et Florence," affects relatively few museum patrons (that it's even a genuine phenomenon is far from settled), but one can easily imagine Camille Paglia among their number. In the 29 brief essays of Glittering Images: A Journey Through Art from Egypt to "Star Wars," Paglia engages great works of art in a state of controlled, hyper-articulate ecstasy. The reader, following her to vertiginous heights of appreciation, feels at times like asking if she could use a paper bag to breathe into.
---