On the Road to Mr. Mineo's
Barbara O'Connor never disappoints. Like her other children's novels, this one is a keeper.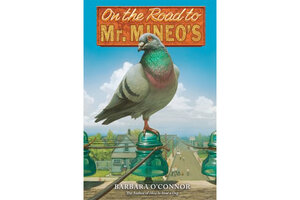 A few years ago, a writer friend pushed a little book my way. "You must read this," she said. I read it. I loved it. Since then, I've devoured every one of Barbara O'Connor's novels and have never been disappointed.
She writes books kids love to read, often laugh-out-loud funny, with oddly intriguing characters. Stories that on the surface seem simple but always offer a kernel of truth, mini-lessons for life.
On the Road to Mr. Mineo's is just this kind of novel for young readers, ages 9-12.
In this newest book, it's summer in Meadville, South Carolina, and for Stella and her friend Gerald, the "lazy days of summer stretch out before them like the highway out by the Waffle House." Unless you count the old men playing checkers outside the Chinese takeout or the kids sitting on the flat roof surveying the world from their lawn chairs, nothing much happens in this sleepy Southern town.
Of course, that's about to change. A one-legged homing pigeon has flown Mr. Mineo's coop. Sherman, beautifully pictured on the cover of this delightful book, is missing. But at least two of the kids in Meadville not only have seen him, they've concocted schemes to capture him. Curly-haired Stella once wanted a dog, but now that she's spied Sherman, she thinks a pigeon will do just fine. Mean-spirited Mutt Raynard wants to prove he's not a liar. Which of course, he is. A liar and a bully.
---