The Watchers
While some parts of Stephen Alford's book are repetitive, his study of life during Queen Elizabeth I's reign is a thought-provoking read.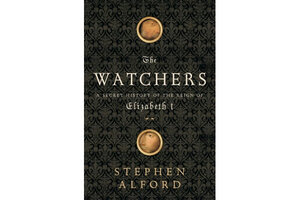 Our culture is saturated with images of Elizabethan England: Shakespearean actors at the Globe Theater; one of England's most famous monarchs presiding over a golden age; glamour and courtliness, prosperity and peace.
Elizabeth's legacy seems inevitable from a twenty-first century standpoint. But it wasn't always so. Late sixteenth-century English society was actually in some ways an unstable, dark and desperate place. In The Watchers: The Secret History of the Reign of Elizabeth I, historian Stephen Alford tells the story of the spies, the plots, the threats of foreign invasion, the torture and the intrigue in Elizabeth's four-decade reign. Although some sections of Alford's book are repetitive, overall, the book is a thought-provoking portrait of the darker side of Elizabethan society.
Alford, a fellow in history at King's College, Cambridge and the author of three other books about Elizabethan history, lays out compelling evidence that the Elizabethan period was a tenuous time for England. The Spanish Hapsburgs and the Pope believed Elizabeth was a heretic, an atheist, and a bastard. England lived with the constant threat of foreign invasion, the threat of an attempt on Elizabeth's life, and the presence of Mary Stuart, a potential claimant to the throne. In his introduction, Alford says if Elizabeth were murdered in 1586, a successful foreign invasion would have been launched, England would have been reconciled to the Pope, and the Protestant experiment would be remembered as a decades-long aberration in English history.
---