The Last Lion: Defender of the Realm
Despite some noteworthy shortcomings, Paul Reid's examination of the last third of Churchill's life gives us the British statesman in all his robust complexity.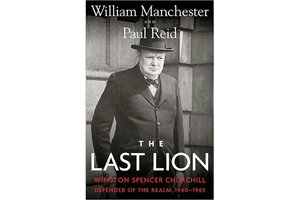 Winston Churchill was one of the central statesmen of the 20th century and, almost 50 years after his death, remains a subject of enduring fascination. Part of the current interest in this venerable figure can be attributed to two superb biographies written in the 1980s by historian William Manchester: "The Last Lion: Visions of Glory" and "The Last Lion: Alone." These two books examined the first two-thirds of Churchill's life.
Unfortunately, after completing the second volume, Manchester's health declined and the rest of the project stalled. So great was public interest in the long-delayed final volume that it was the subject of a front page story in The New York Times.
Eventually, in 2003, Manchester asked his friend Paul Reid to complete the trilogy. Now, nearly a decade later, Reid has published The Last Lion, the final piece of this monumental undertaking. Reid starts when Churchill was appointed prime minister in May 1940 and follows him through his death in 1965. While most of this volume is appropriately devoted to World War II, it also includes the vast expansion of the British welfare state following the war, the start of the Cold War and the enormous dangers it carried, and the loss of the British Empire.
Reid has written a thorough and complete analysis of these years, and it is a worthy finale to the first two volumes. Exhaustively researched and carefully written, it draws on a full range of primary and secondary materials. This book will be essential reading for those who enjoyed the first two volumes and those with a deep interest in understanding this seminal figure and his place in history.
---