My Autobiography, by Charlie Chaplin
In his autobiography, Charlie Chaplin is forthcoming with his childhood recollections but oddly reticent when it comes to discussing his film achievements.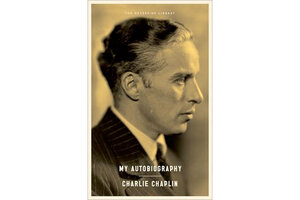 Reviewed by Steve Futterman for Barnes & Noble Review
Do principal players in history owe those who follow a privileged view of the momentous events they lived through? A question worth pondering, particularly when reading the newly reprinted 1964 My Autobiography of Charlie Chaplin. If ever there was a figure whose recollections and insights could reveal the behind-the-scenes machinations that brought about the initial explosion of cinema it was Chaplin, a stupefyingly brilliant actor, writer, producer, composer, and director whose seminal Hollywood films made him an international superstar of colossal proportions. Despite an Olympian sweep of the burgeoning art form and business rivaled by few others, Chaplin, by the time he set pen to paper as a septuagenarian, obviously had deep reservations about sharing the vista with mere mortals.
In a fascinating psychological twist, Chaplin is most forthcoming when documenting his heartbreaking childhood and grueling adolescence in turn-of-the century London; here lie the kind of brutal memories that may have stayed carefully guarded, if not outright repressed secrets for others. Not for Chaplin, though, who masterfully narrates a youth of Dickensian dimensions, including abject poverty, a drunken, absent father, a loving mother literally going mad, life on the streets, even a stay in the workhouse. It's horrible and wrenching, and Chaplin goes to the races with it all, turning tragedy into gripping drama. These pages crackle with emotion, poetry, and raw feeling. By the time Chaplin has found his footing as a comic and later makes his initial visit to the U.S. with a British touring company, the reader is in his grips, downright hungry for his recounting of the rags-to-riches payoff just around the corner. Chaplin then abruptly closes the door to the banquet room.
---