A Memory of Light
No fan of Jordan's work will want to miss this sprawling series-ender. But it is not a book to read out of context.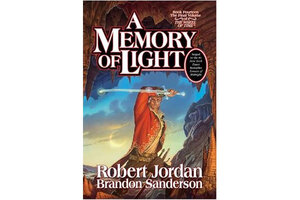 The threads of fate finally weave together in A Memory of Light by Robert Jordan and Brandon Sanderson. This is the 14th and final book in Robert Jordan's epic "Wheel of Time" series, begun in 1990. (The final three books of the series were finished by Sanderson – using Jordan's notes – after Jordan's 2007 death.) "A Memory of Light," set in a world based on the 16th century and heavily influenced by medieval Japanese culture, is what you might call "classic fantasy" – literature heavily influenced by Tolkien, eastern religious principles, and military history.
For readers who have been with "Wheel of Time" from the start, "A Memory of Light" delivers on its purpose: an ending to the epic. But for those who haven't, here's a piece of advice: Go back and start from the beginning.
"A Memory of Light" depicts a world on the precipice of the Last Battle. Nations squabble and fight under the shadow of a much larger danger. Rand Al'Thor, the Dragon Reborn, is the world's only hope. Duty and destiny, prophecy and politics, magic and hope all weigh heavy on his shoulders as he strives to save not only the world, but existence itself. The nations of men and the armies of the Dark One collide with the fate of the universe hanging over them. Rand, Mat, Perrin, Elayne, Egwene and the rest of the cast Jordan's readers have come to love over the course of 13 books will face their final crisis. Prepare for the Last Battle!
…but not before about 30 other, smaller battles. The 909 pages of this book definitely start to feel padded with large- and small-scale action scenes after page 500. Sanderson does a good job of keeping the action clean, but still, it gets repetitive.
That being said, it's not just one big slaughterfest (think less festival, more thrash metal concert). Heartfelt scenes help keep the reader emotionally invested in the battles. Rand's relationship with his father and the drama between childhood friends are great examples.
Sanderson definitely inherited some big problems from Jordan. The sub-plots and loose ends that the series often gets criticized for are only symptoms of the larger problem: Robert Jordan was too proud of his creation. He wanted the reader to see all of it.
---