Citizenville
Gavin Newsom wants social media to reinvent government.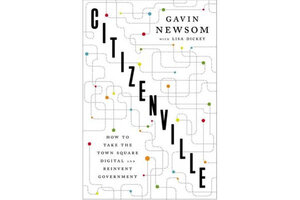 Gavin Newsom, lieutenant governor of California, has a startling proposition: What if government solved problems in the style of Yelp, Wikipedia, Google, and FarmVille?
In Citizenville, co-written with Lisa Dickey, Newsom outlines his learnings from being mayor of one of the most plugged-in cities in the world, San Francisco. "The biggest problem with government today," he writes, "is that we've set it up to manage problems, not solve them. Too often, people in government are more interested in maintaining the status quo, because that's how they maintain their jobs." Instead, he says, why not integrate tech-based fixes? Why not bring the takeaways from Silicon Valley's private sector into the public sector?
From the gamification of civic engagement to open data to hackathons to crowdsourced innovations, Newsom presents some of the tech entrepreneurship scene's greatest lessons and suggests how they might work for local government.
Take, for example, FarmVille. An addictive game, sure, but also a revolutionary concept that government could apply to the real world. In FarmVille, players earn points or pay to grow their virtual farms. Newsom posits that, in real life, we could gamify community service so that everyday citizens would be rewarded for helping out around town. Reporting a pothole, organizing a park cleanup – these would score points in the author's real world scenario. He calls the concept "Citizenville." Imagine if we spent as much time cultivating our actual communities as we did our virtual communities?
And that's just the beginning. Newsom presents a wealth of exciting possibilities. And while Citizenville the game seems feasible enough, the reader wonders which of his many ideas should be given a shot and which proposals shouldn't go beyond the whiteboard.
---