Gun Guys: A Road Trip
Dan Baum's reportorial style brings much-needed humor and rationality to the fractious gun debate.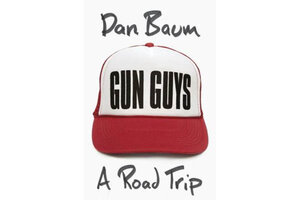 A hunter and gun collector, a Jew, and a liberal Democrat, Dan Baum is a wonderfully guileless and open-minded guide to American gun culture. Gun Guys, his "road trip" across the firearms landscape, expands the conversation about this treacherous terrain even as it turns down the volume.
The book's autobiographical aspect also reflects the nation's conflict about guns. While carrying a firearm gained this middle-aged, stoop-shouldered journalist entrée to a culture of gun devotees from rational to rabid, it also put off members of Baum's own family. And, had they known of his concealed carry, it would have appalled Baum's friends – particularly in his home city of Boulder, Colo., a community "so achingly liberal that its city council once argued for three days over whether people were 'owners' or 'guardians' of their pets. (Guardians won.)"
Baum offers no solutions to the complicated issue of gun violence that continues to roil the United States, particularly in the wake of the Dec. 14 shooting of 20 elementary school children and six of their teachers in Newtown, Conn. Nevertheless, his book is a blast, pun intended.
As the US continues to struggle with questions of firearms control, including a proposed ban on semiautomatic weapons like the ubiquitous AR- 15 (which Baum dubs the "iGun" because of its malleability) and universal background checks, Baum weighs in with reason, insight, and humor.
He takes us first to a gun range near Denver, and then to a gun store near Phoenix where owner Frank DeSomma schools him in the AR-15.
"It was easy to see, then, why the AR-15 was so popular," Baum writes. "It was fun to shoot. It was a geek's dream of limitless high-tech parts. It made everybody a bit player in the global war on terror and the march of American history. It worked for whatever kind of shooting a gun guy might want. It limited a shooter's exposure to the federal firearms bureaucracy. And it made life harder for the ATF (Bureau of Alcohol, Tobacco and Firearms). It was the perfect gun for the Tea Party era."
---