American Story
NBC correspondent Bob Dotson profiles the quiet heroes who make our world a better place.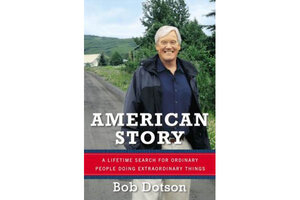 Ordinary changes the world. It's not the politicians or the celebrities who shape our country and our dreams. It's the honest, hardworking, archetypical Americans who make this country what it is.
Bob Dotson has been working for NBC since 1969. He started out in hard news, but became dissatisfied and transitioned into a rather unique angle in television reporting – "ordinary people." For years, Dotson has been a correspondent for NBC's Today Show, interviewing ordinary Americans who live extraordinary lives for his "American Story" segment. He's traveled about four million miles around the United States and he's been in "more motels than the Gideon Bible."
His new book, American Story, weaves the big themes of his own life together with the stories of some of the people he's interviewed. "American Story" is part memoir part impressionist painting: Each story (never more than 10 pages) is a capsule of the amazing story of one American. They can be deep, inspiring, funny, tragic, but more than that, human. Dotson distills the lessons their lives taught him into a few sentences at the beginning and ending of each chapter. If you step back from it all, suddenly you have a portrait of the American Dream being lived in our own backyards.
---