Return of a King
William Dalrymple looks for contemporary lessons in the story of Britain's disastrous 19th-century invasion of Afghanistan.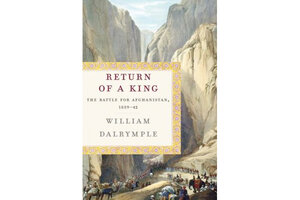 There's a gripping war story in Return of a King, William Dalrymple's epic recounting of Britain's farcical attempt to invade Afghanistan in the first half of the 19th century. Unfortunately, general readers will have to work to find it. It is obscured beneath the author's prodigious but specialized original research and also behind his suspect thesis that 21st-century Western misadventures in Afghanistan result from little more than modern leaders' ignorance of the past.
"The closer I looked, the more the west's first disastrous entanglement in Afghanistan seemed to contain distinct echoes of the neocolonial adventures of our own day," writes Dalrymple, a Delhi-based author who has written many books about India. "The same tribal rivalries and the same battles were continuing to be fought out in the same places 170 years later under the guise of new flags, new ideologies and new political puppeteers."
Superficially, this idea is compelling. We know Afghanistan as the fabled graveyard of empires, but is the War of Terror and the US invasion of Taliban-controlled central Asia just an extension of 19th-century colonialism?
---