My Beloved Brontosaurus
Author Brian Switek explores and explains the enduring appeal of dinosaurs.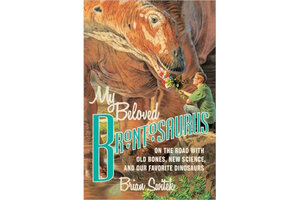 Let's face it: dinosaurs are simply cool. We all remember learning about them with glee. When I was five, I had a friend named Raza Lawrence, and we nerded out about the big beasts together, inspecting every book, bone, and fossil we could find in Madison, Wisconsin. Although we had relatively recent tenure on the planet, our brains seemed primed to soak up any stray knowledge about prehistory: in piping voices we'd name the triceratops, brontosaurus, and tyrannosaurus. I remember that passionate love, and as a parent, I see the magic start early. Even my twenty-one-month-old can identify "dinoks." Yet despite our seemingly innate adoration of enormous extinct creatures, many of us leave dinosaurs behind right about the time we stop believing that we'll be both a policeman and a ballerina when we grow up.

Fortunately for us, Brian Switek has continued to channel the enthusiasms of his own inner five-year-old. In his zany, sometimes mind-blowing romp through the new science of old bones – fittingly called My Beloved Brontosaurus – you too can nerd out anew. It's worth it. A lot has happened since Raza and I and Switek were kids. The plodding reptilians we remember snarfing down palm leaves in hothouse conditions have been replaced by speedy, brainy – possibly even musical – beasts who'd amaze us even more now if we let them.
---