Christianophobia
British journalist Rupert Shortt documents and examines the persecution of Christians around the world – a problem of which many Westerners are unaware.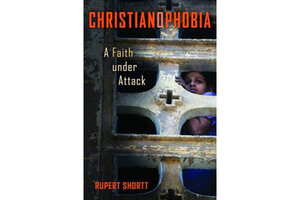 In the introduction to his focused yet far-ranging Christianophobia: A Faith Under Attack, Rupert Shortt points out that "[o]ne reason why Western audiences hear so little about religious oppression in the Muslim world is straightforward: young Christians in Europe and America do not become 'radicalized,' and persecuted Christians tend not to respond with terrorist violence."
Another reason for the silence, he adds, stems from the fear that criticizing Muslims will prompt charges of racism. A third explanation lies in the fact that many liberals in the West look askance at Christianity in the developing world due to a simplistic and often historically inaccurate belief that its spread was bound up with Western imperialism.
Shortt, religion editor at the (London) Times Literary Supplement and biographer of Rowan Williams (former Archbishop of Canterbury), begins with the premise "that freedom of belief and association are unqualified goods" and proceeds to examine countries – including several non-Muslim ones – that deny them to Christians.
Shortt relies on interviews he conducted in seven countries he visited, reports released by international Christian aid organizations as well as Amnesty International, and scholarly and other books. In some ways, he follows in the footsteps of Paul Marshall and co-authors, who have long written about persecution of Christians and whose findings are among the references he cites. Throughout, he eschews polemics and unhesitatingly criticizes both historical and recent Christian violence against Muslims and others.
---