Country Girl
Trailblazing Irish novelist Edna O'Brien delivers the memoir she once believed she'd never write.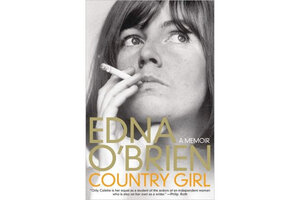 Reviewed by Michelle Dean for Barnes & Noble Review
Edna O'Brien learned quite early on that writing books can be a dangerous business. She wrote her first novel, "The Country Girls," in three weeks. When it was published, in 1960, she was thirty and a sensation in literary London: its success launched her on a long career that spans over twenty books. But with fame came instant notoriety, too. "The Country Girls" was considered so risqué in her native Ireland that it was banned for a time. People in her hometown even made a show of burning it. The detractors included the head of her old convent school ("We give credence an open mind"), her then-husband ("You can write and I will never forgive you"), and even her own mother, who resented the looks she got from neighbors. Ever after, O'Brien was seen in some quarters as, in her terms, "a Jezebel."
That episode perhaps explains why she describes her new book, Country Girl: A Memoir, in the preface as "the memoir which I swore I would never write." It is a remark she does not otherwise explain. Without further context, you might want to call that a very old form of snobbery against the art of talking about oneself – or most memoirists will, anyway, and they are a sensitive bunch of late. Something more complicated is at work here. O'Brien is not afraid of putting herself in her work. She once told The Paris Review that "any book that is any good must be, to some extent, autobiographical, because one cannot and should not fabricate emotions; and although style and narrative are crucial, the bulwark, emotion, is what finally matters."
---