The World Is a Carpet
Journalist Anna Badkhen chronicles four seasons spent in a tiny village in Afghanistan.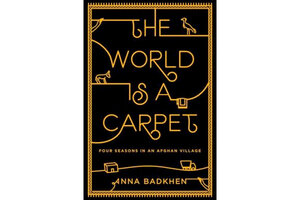 When you Google journalist Anna Badkhen, the one repeating line you'll encounter is this: "Anna Badkhen writes about people in extremis." To do so, she's "spent [her] adult life in motion of one sort or another in the war-wrecked hinterlands of Central Asia, Arabia, Africa."
Badkhen professes, "I did not have a home," although she's been making prolonged journeys to Afghanistan with regularity. Her fascination with the country – and her sojourns there – began "before American warplanes dropped their first payload on Kabul in 2001." Her latest extended residency finds her based in the northern Afghan city of Mazar-e-Sharif, prompted in 2010 by a visit one afternoon to the tiny neighboring village of Oqa.
Populated by "forty doorless huts" and 240 residents, Oqa does not appear on any map; no roads connect the village to any other. Officials in Mazar-e-Sharif insist that Oqa does not exist. But Badkhen knows otherwise. Oqa is the place where she witnessed the creation of "the most beautiful carpet I have ever seen."
It is that experience – blended with Badkhen's account of the cultural and political landscape of a people and region in extremis – that forms the basis of her transporting new book, The World Is a Carpet: Four Seasons in an Afghan Village.
Commuting from a working-class neighborhood in Mazar-e-Sharif, Badkhen became a frequent visitor to the home of septuagenarian Oqan patriarch Baba Nazar; his wife, Boston (Turkoman for "garden"); his son; daughter-in-law; and their two young children. The Nazar family are Turkomans – members of the Afghan ethnic group known for their remarkable skills in carpetmaking.
---