City of Ambition
Mason B. Williams looks back at the unique Depression-era collaboration between FDR and New York mayor Fiorello La Guardia.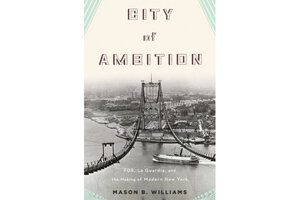 Reviewed by Barbara Spindel for Barnes & Noble Review
During his presidency, Franklin Delano Roosevelt remarked of New York mayor Fiorello La Guardia, "Our Mayor is the most appealing man I know. He comes to Washington and tells me a sad story. The tears run down my cheeks and the tears run down his cheeks and the next thing I know, he has wangled another $50 million out of me."
FDR was being playful, but there was truth in his quip, as historian Mason Williams demonstrates in his first book, the compelling if occasionally leaden City of Ambition: FDR, La Guardia, and the Making of Modern New York. "City of Ambition" traces the unique Depression-era collaboration between the two formidable politicians, who, the author says, became "more closely associated in the public mind than any mayor and president had ever been."
Williams devotes too much ink to the details of La Guardia's early career as a US congressman, but the book picks up when the focus shifts to his New York mayoralty, which spanned the depths of the Depression and World War II. The heart of the book concerns the impact of federal relief on the creation of modern New York.
The "physical legacy of the New Deal still pervades the city," Williams observes, and indeed, that legacy is extraordinary. The New Deal agencies the Civil Works Administration, the Public Works Administration, and the Works Progress Administration together financed the Lincoln and Queens-Midtown tunnels, the Triborough Bridge, the Belt Parkway, La Guardia Airport, numerous subway extensions, and the campuses of Brooklyn and Hunter colleges.
---