The Greek House
Swiss painter Christian Brechneff's story – a beguiling mix of genres, from travelogue to art guide – is the next best thing to actually going to a Greek island.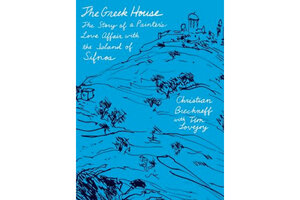 "I believe there are places that have real power, places where the connection between nature and man is absolutely direct, without thought of any kind, places that penetrate you so deeply that they become part of you," writes Christian Brechneff in his newly published work The Greek House: The Story of a Painter's Love Affair with the Island of Sifnos.
For Gauguin, that place was Tahiti; for John Muir, Yosemite; for O'Keefe, the Southwest. And for Brechneff, a Swiss painter of Russian lineage, it was the Greek island of Sifnos – "a small island of the past, a living tradition captured like a creature in amber." For 30 years, beginning at age 21, on that starkly beautiful yet backward island out in the middle of the Aegean, the author lived, painted, and grew to eventually become more and more ... himself. (His mother was a Jungian analyst.)
Leaving the uber-conventional confines of Basel, Switzerland, confused about his identity – both national and sexual – the author takes flight and eventually finds himself on a remote Greek island. Standing there on the deck of the ferryboat, heading to this unknown land in the Cyclades archipelago, he recalls every sight and sound and contour, even the very odor of first contact: "I could smell for the first time the delicate scent of the island, like a package of spices and herbs suddenly spilled open in the palm of my hand."
Forever inspired by the magic of Sifnos, Brechneff returns year after year, through graduate school, through failed love affairs with both men and women, through professional zigs and zags, to the place where it was "impossible to be depressed" in order to recharge his battery and to paint, paint, paint.
---