The No World Concerto
A novelist tries to make very modern music out of a work of fiction.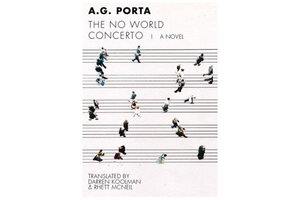 By Scott Esposito for The Barnes & Noble Review
In 1984, two young writers made their Spanish prose debut with a strange dual novel titled "Consejos de un discípulo de Morrison a un fanático de Joyce" ("Advice from a Morrison Disciple to a Joyce Fanatic"). The book was not a commercial smash and in truth is not a great novel, but it is noteworthy for launching the career of the Chilean co-author, Roberto Bolaño.
Whereas Bolaño continued to write and publish after "Consejos," eventually delivering his second novel in 1993, his collaborator, Barcelona-born A. G. Porta, went dark and reportedly abandoned literature, not returning until 1999. (Bolaño claimed that Porta spent the decade and a half wrapped up within a deep study of "Ulysses".) He quickly made up for lost time, publishing a total of five novels within a decade. The first of Porta's books to appear in English, 2006's The No World Concerto, has now arrived via Dalkey Archive Press in a co-translation by Darren Koolman and Rhett McNeil.
"The No World Concerto" is a strange, ambitious title, a work that attempts to combine the forms imagined by philosopher Ludwig Wittgenstein and serialist composer Arnold Schoenberg: It might best be described as a book that wants to exist as a performance of a score residing somewhere in the confines of Porta's skull. Or, as Porta himself writes, "it has an unsettling rhythm, like something that's always approaching but never quite arrives."
In its constant insinuation that it is governed by obscure formal rules, the book feels reminiscent of writing from the famous French collective the Oulipo, yet it also has the feel of a Christopher Nolan film in its frequent upending of what we understand to be the book's reality, and the slick, sketchy landscape of surfaces in which it takes place. Sentence by sentence, "The No World Concerto" is stylistically unremarkable; the book's innovations, such as they are, occur at the level of large structural features that sit behind the action of this novel.
---