Turtle Diary
A poignant novel of two lost souls and a dream of freedom, from the author of "Riddley Walker."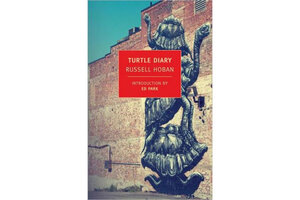 By Rebecca Barry for The Barnes and Noble Review
For a certain generation of readers Russell Hoban is best known as the creator of precocious badgers, kindhearted otters, and optimistic moles. Some may recall favorites from his Frances the Badger series of seven picture books published between 1960 and 1972. For me, "Emmet Otter's Jug-Band Christmas," published by Parents Magazine Press in 1971, was the ticket into Hoban's enchanting world. In that book, down-on-their-luck otters in Frogtown Hollow compete in the annual Christmas talent show, hoping to win enough money to buy each other real store-bought gifts.
The story was adapted for television by Jim Henson's fledgling band of Muppeteers in 1977, and the movie premiered on HBO in December of 1978 and later aired on ABC. I'm sure I've watched it hundreds of times in the past 35 years, a holiday tradition forced on my two children, for whom I also purchased a first edition a few years back. I've also pressed Hoban's "The Mole Family's Christmas" (1969) on my digital-generation kids.
All this to say that my literary knowledge of Russell Hoban was, I suspect, like so many readers, limited to the children's books he wrote and which were illustrated by his first wife, Lillian Hoban. Turtle Diary, a misleading title in this context, is not for the preschool set. It is an insightful and droll novel about mid-life discontents, entirely timely for the readers who grew up on his books and who now have children and crises of their own. Out of print for several years, this new edition of "Turtle Diary," with an introduction by Ed Parks, gives us a chance to discover a different Hoban – not the earlier children's author and not the later fantasy novelist – and to be charmed by what's in between.
---