Lawrence in Arabia
Veteran war correspondent Scott Anderson traces the involvement of T.E. Lawrence and three other Westerners during a critical and turbulent period in the Middle East.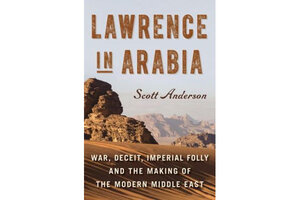 For most of World War I, the American intelligence presence in the Middle East consisted of a 29-year-old man named William Yale, an employee of an oil company who had approached the State Department to see if he could avoid the draft by parlaying his experience in the region into an overseas posting. He'd observed the positions of Turkish military bases while traveling in the Ottoman Empire before America joined the war, but he was largely innocent of deeper knowledge of the region.
As he later wrote, "I lacked a historical knowledge of the background of the problems I was studying. I had … very little understanding of the fundamental nature and function of the [regional] economic and social system." Undeterred by his lack of expertise, the State Department arranged for Yale to return to the Middle East as a special agent.
Yale is one of a quartet of scheming characters in Scott Anderson's new book Lawrence in Arabia: War, Deceit, Imperial Folly and the Making of the Modern Middle East, which seeks to remedy some of the American ignorance of Middle Eastern history that Yale represents.
Shortly after arriving in Cairo to begin his new posting, Yale managed to get access to a weekly British report called the "Arab Bulletin" that summarized sensitive intelligence gathered from around the Middle East. Yale, who was still receiving half of his former salary from the Standard Oil Company of New York, scanned the report for any references to oil.
He also broke his word to the British by communicating its contents to the US State Department. He justified his behavior by invoking the corrupting influence of living and working among "European and Oriental officials."
---