Let Freedom Ring
Photos by Look staffer Stanley Tretick and accompanying text by Kitty Kelley vividly evoke a time when the US was pregnant with both conflict and promise.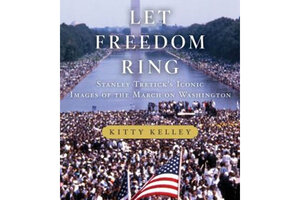 Coffee table books are usually more ornament than depth charge, but Let Freedom Ring, celebrity biographer Kitty Kelley's sober presentation of previously unpublished photos by Look magazine staffer Stanley Tretick falls into the latter category.
Turn to any page and you're likely to be moved – and reminded of work yet to be done, as Children's Defense Fund founder Marian Wright Edelman manages to do so effectively in her introduction.
Published to mark the 50th anniversary of the Aug. 28, 1963, March on Washington for Jobs & Freedom, Kelley's lean text, respectfully subordinated to the largely joyous, strikingly candid images by her old friend Tretick, vividly evokes a time when this nation was pregnant with both conflict and promise.
This publication of predominantly black-and-white photographs comes roughly two months after the US Supreme Court decided to turn back to some states voting rights codified into federal law by former President Lyndon B. Johnson. Such present-day actions give "Let Freedom Ring" special resonance.
There are few female faces among the movers and shakers pictured in this book, as illustrated by the photo on page 56 of the Big Ten, the men who shepherded the March to fruition in the face of discouragement from President John F. Kennedy and, to a lesser extent, Robert Kennedy, JFK's brother and the attorney general. It was clearly a man's world then – until you see the crowd shots of marchers cooling off in the Reflecting Pool near the capitol following page 100.
It was also a time in which groups came together for a common purpose: religions of all persuasions (Muslims apparently excepted), labor, and academia united for political change, unlike the more polarized process that we see today. Another period-specific detail found in the book: spreads of proof sheets of analog-camera pictures that had to be developed in darkrooms.
---