Ready for a Brand New Beat
It was 1964. Our soldiers went to Vietnam, the Beatles came to the US, and Martha Reeves sang 'Dancing in the Street' – never expecting the response that the song would generate.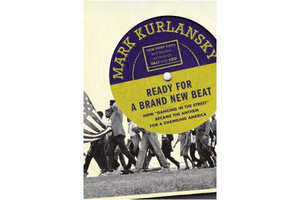 By Barbara Spindel for The Barnes & Noble Review
In 1967, after a turbulent summer of violent uprisings in Detroit, Newark, and other cities across America, singer Martha Reeves went on tour in Britain. At a stop in London, a reporter confronted the Motown star about the urban riots, demanding to know whether her hit "Dancing in the Street" was a call to arms. Reeves, who always insisted that her signature song was nothing more than "a party song," burst into tears.
Mark Kurlansky, best known for micro-histories including "Salt" and "Cod," now turns his attention to Reeves's iconic song, written by Marvin Gaye, Mickey Stevenson, and Ivy Jo Hunter and recorded by Martha and the Vandellas in 1964. The book, Ready for a Brand New Beat, is crammed with intriguing material, even if its subtitle, "How 'Dancing in the Street' Became the Anthem for a Changing America," promises more than the author ultimately delivers.
One problem is that Kurlansky takes too long to get to "Dancing in the Street," padding the book with overly detailed background on everything from Elvis to Beatlemania to Detroit's influx of black families from the South.
---