These Few Precious Days
Christopher Andersen examines the last year in John F. and Jacqueline Kennedy's marriage.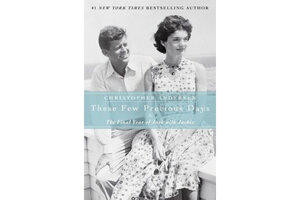 Given the enduring interest in President John F. Kennedy, it is not surprising to see a surge of books about him as the 50th anniversary of his assassination approaches. Many of these focus on the timeless mysteries that have surrounded his brief presidency: What were his intentions with respect to the small but growing American role in Vietnam? Would he have sought a broader agreement to defuse the tensions of the Cold War with Khrushchev and possibly even Fidel Castro? Would he have become an outspoken champion on civil rights? And perhaps the most evergreen question of all, what was the relationship between Jack and Jackie really like?
Their marriage captivated Americans at the time and has continued to do so, even among those who have little interest in political history. At the time, they seemed an ideal couple: He was a wealthy, handsome war hero who had advanced rapidly in national politics and she was a beautiful, gracious and accomplished woman.
But as with any marriage, there was a lot more behind the scenes and in These Few Precious Days: The Final Year of Jack with Jackie, bestselling author Christopher Andersen provides a fascinating and insightful look at their relationship. It was, to say the least, complicated. Jackie wanted to marry a rich and powerful man but did not realize that doing so meant she would have to share him with others, something she detested. She was plagued by depression and loneliness and worried that she was not up to the demands placed on her. To cope, she took long vacations and spent considerable time away from the White House. Jack undoubtedly exacerbated her isolation by repeatedly disregarding Jackie's feelings to the point of callousness.
---