Starry Nights
Daisy Whitney tells the fantastically playful story of a depressed Parisian artist who finds inspiration when the subject of a famous painting comes alive.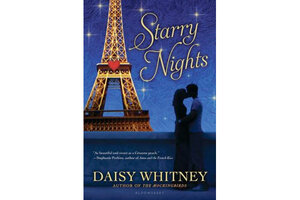 Paris is a city mythologized by art, a city that makes magic of the mundane: rain, accordion music, even heartaches. Daisy Whitney's charming new young adult novel Starry Nights tells the story of Julian Garnier, a young French artist who, embittered by a recent breakup and suffering a crisis of artistic confidence, turns to his city for solace.
Truth be told, Julien's a bit of a fretter. He worries that his art is technically accurate but lacks feeling. He doubts that he has the talent to be a professional artist, but he loves art too much to do anything else. For a self-professed nonreligious guy, art is his religion and museums are his temples. It's in his beloved Musée d'Orsay that Julien sees paintings come to life before his eyes.
It all begins when the museum is selected to show "The Girl in the Garden," a (fictional) Renoir painting that was lost for 130 years. Legend has it that Renoir and Monet, both married men, were in love with the subject, and that the girl's family hid the painting to protect her reputation. As a part-time guide at the Musée d'Orsay (and son of its director), Julien has unparalleled access to the museum at all hours. On a late night visit, a peach falls out of a Cezanne still life and a Degas ballerina practices Swan Lake in the gallery.
Julien befriends the son of the painting's owner, a cross-dressing artist who keeps sheep on his Montmartre balcony and calls himself Bonheur (after cross-dressing realist painter Rosa Bonheur). Bonheur knows that Julien can see art coming to life and offers to show him the lost Renoir before it goes on display. Julien accepts and watches in shock as a hand extends through the canvas: a real girl named Clio is trapped inside the painting by a powerful curse.
---