David and Goliath
Malcolm Gladwell subverts our assumptions about winners and losers in his newest work.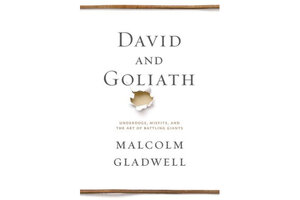 Goliath had it coming. But why did the big guy take the big fall that's inspired countless generations of underdogs to aim high?
Malcolm Gladwell, America's patron saint of human behavior, offers an unexpected answer in his new book and uses it to puncture our assumptions about winners, losers and power itself. David and Goliath: Underdogs, Misfits and the Art of Battling Giants is enlightening and entertaining, even if Gladwell's grand theory wobbles a bit.
It's not just a rock that slays Goliath, it turns out, and David is more than a man with a slingshot. As Gladwell explains, being a hulk of a guy – or, as the behemoth's mother might have put it, just big-boned – gives Goliath advantages and disadvantages.
The Big G isn't agile. He may suffer from a disease that boosts his size but hurts his vision. And his lavish confidence makes him oblivious to his own vulnerabilities. David, meanwhile, is armed with what one historian describes as the equivalent of a .45 automatic pistol, and he knows how to use it. So who's the real underdog here?
There's a lot more to Gladwell's fascinating analysis of the most famous one-on-one battle of all time, but the gist of his argument is this: "The powerful are not as powerful as they seem – nor the weak as weak."
There's a kernel of common sense here, as is often the case in Gladwell's work. Instant gut decisions – a la "Blink" – are often good ones. No kidding. Some people are a kind of social glue ("The Tipping Point"). Absolutely! And of course the powerful are often limited by things like overconfidence and their unwieldy size.
Gladwell's genius is his ability to venture beyond the seemingly obvious and find wider lessons about human behavior. He finds them here in stories of unexpected winners in the civil rights-era South, modern-day Silicon Valley, Vichy France in World War II, and the tales of the sly Br'er Rabbit.
---