Book of Ages
New Yorker writer Jill Lepore examines the life of an 'every woman' who just happens to be the sister of Benjamin Franklin.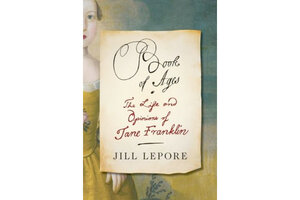 In Book of Ages, historian and journalist Jill Lepore presents the extraordinary history of the ordinary, everyday life of Benjamin Franklin's younger sister Jane. (She became Jane Franklin Mecom, after her marriage at age 15.) Jane lived the life that might have been Ben's had he been a woman.
Using the shadows cast from Ben's life and the comparatively few remains of Jane's writing, Lepore describes Jane's lively character and mind. "The facts of Jane Franklin's life are hard to come by," she writes. "If [Ben] meant to be Everyman, she is everyone else." For Lepore, "[T]he story of a life like Franklin's means very little unless it's told alongside the story of a life like Jane's."
Jane's brother lived in Philadelphia, London, and Paris, but she stayed in Boston. She had 12 children, only one of whom was alive when she died at 82. Her difficult husband had many problems, possibly including mental illness. Much of Jane's life consisted of household labor, child care, running her own soap business, and an almost continual witnessing of the deaths of loved ones.
Yet she found time to indulge her love of books, including the Bible (she favored the Book of Job – he endured and tried not to complain!) and was a faithful Christian (unlike Ben who was a compulsive moralist but not traditionally religious).
She often went as long as a decade without seeing her famous brother but enjoyed a lively lifelong correspondence with him. (Ben wrote more letters to Jane than to any other correspondent.) "Jane's letters are different than her brother's – delightfully so," notes Lepore. "He wrote polite letters. She wrote impolite ones."
Ben was a little embarrassed by but enjoyed his sister's natural way of putting things, and she could tease him and get her own in; he could outspell her but not outwit her. She was full of feelings and, in her older age, engagingly reflective and opinionated.
---