Countrymen
The Final Solution loomed over Denmark's Jews in 1943, but their nation was not prepared to give them up.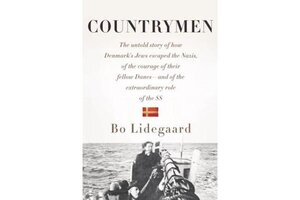 Reviewed by Peter Lewis for The Barnes & Noble Review
It came late, but the Final Solution was finally visited upon Denmark's Jewish citizens in 1943. That wasn't due to a lack of murderous determination in the German high command. Denmark had an unusual relationship with the occupiers through much of the Second World War – the kind of tacit submission entered into when your arm is being twisted off by an outsized bully – and the Jewish population carried on with their lives.
Though Denmark was geographically occupied by German troops, it was not fully occupied politically. The Danish government was responsible for the country's internal affairs. The center-left coalition steered an unprovocative course, the dangerous ground where pragmatism can willy-nilly slip on the slope of collaboration. But one element of Danish national pride was unwavering. Where Nazism claimed legitimacy through the bellicose recovery of German "honor," Denmark's patriotism was synonymous with democracy and anti-totalitarian humanism. Danes were Danes. German propaganda couldn't exploit a Jewish "issue" in Denmark quite simply because, as the Danes noted, there was no "issue." Pick a fight with one Dane and you pick a fight with a whole bunch of them.
Sounds awfully rosy, but that is the case Bo Lidegaard persuasively makes in Countrymen, the story of two weeks in Danish history when the country acted in concert to foil a great inhumanity – the attempted roundup and deportation of the Jewish population. Lidegaard, a former diplomat and now one of Denmark's leading journalists, is proud of his countrymen's stalwartness, though he peddles it softly. Danes rallied to their Jewish neighbors because it would have been barbaric to do otherwise. It would have been un-Danish.
---