Mr. Lynch's Holiday
Catherine Flynn's wry, touching, third novel follows a widower who visits his son in Spain, only to find that the boy's supposedly glamorous expat life is anything but.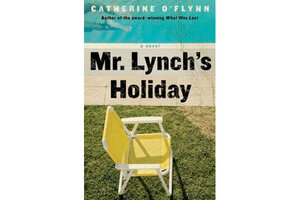 After decades as a bus driver in Birmingham, Dermot Lynch is taking his first overseas trip in Catherine Flynn's third, utterly charming novel, Mr. Lynch's Holiday.
The newly retired widower chooses Spain, not for the sunshine, but to visit his only child, Eamonn, who was supposed to be living a sophisticated expatriate life with his wife. Instead, the busman's holiday turns out to be just-in-the-nick-of-time rescue.
Dermot arrives, on foot, to find that Eamonn's wife, Laura, is gone. Eamonn tells his father it's just for a few days because he's ashamed to admit she has left him and returned to England. In her absence, Eamonn is barely functional – sleeping past noon, playing computer chess, and ignoring his online English students as the shoddily built new condo crumbles around him.
In fact, the only beings thriving in Lomaverde are the feral cats, whose numbers increase by the day.
"Because Lomaverde was not in decline, because it had rather simply failed to take off, its death was more difficult to perceive. Awareness of its failure to thrive was slow and incremental, similar to Eamonn and Laura's own gradual realization, four months after arriving, that the pool was emptying," O'Flynn writes. For the first few days neither of them mentioned it, each assuming they were imagining it. But as the water level continued to sink, there was no room for doubt … It took an age for the pool to empty completely, the water seeping slowly through a tiny crack. It was peculiarly painful to watch."
---