Flora & Ulysses
Kate DiCamillo has penned another winner for young readers.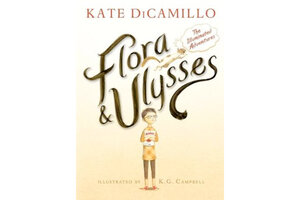 Holy bagumba! Kate DiCamillo scores again. And it all begins with a vacuum cleaner. Really. A Ulysses Super-Suction, Multi-Terrain 2000X vacuum that sucks up a squirrel whose last thought is, "Man, I sure am hungry."
Encouraged by 10-year-old, self-proclaimed cynic Flora, the squirrel not only survives but emerges with superhero powers, now able to lift the vacuum cleaner above his head with one paw, clack out poetry on typewriter keys – and transform Flora's life. Together Flora and the newly named Ulysses lead us on a fantastic reading journey in Flora & Ulysses, the latest novel aimed at middle-grade readers (ages 8 to 12) from the award-winning DiCamillo.
Before the vacuum-cleaner incident and somewhat as a result of her parents' divorce, Flora Belle Buckman, our narrator, had spent most of her young life reading and quoting comic books. At least, that is, until her romance-novel-writing mom wrested a contract out of her, requiring her to turn away from "the idiotic high jinks and comics and toward the bright light of true literature."
Flora must give up both Alfred T. Slipper, unassuming janitor morphed into crime-fighting superhero, and her favorite comic, "Terrible Things Can Happen to You!" But while she may leave comic books behind for a summer, nothing can prevent her from embarking on her own adventure, complete with comic-strip bubbles over her head.
---