Days of God
James Buchan examines both the politics and the theology of the Iranian Revolution.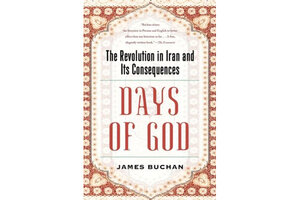 Reviewed by Graeme Wood for Barnes & Noble Review
Of all the heady rumors to swirl around the Iranian Revolution as it happened, without a doubt the most electrifying was that the Ayatollah Khomeini's first act on taking power would be to announce the end of the world. As promises from politicians go, this would have been a doozy. Devout Iranian Shia believe that their tenth-century spiritual leader, Muhammad al-Mahdi, vanished into a cave in Iraq at the age of five. He remains on earth, living but refusing to reveal himself, and his eventual return will herald divine judgment and the end of time. Could Khomeini be that Hidden Imam in disguise, playing his cards close to his robes until the right moment? No one could remember seeing photos of him as a youngster.
Khomeini's death in 1989 finally killed off the rumor. But his followers' willingness to speculate on his quasi-divinity tells us something important about how this revolution differed from other, more secular regime changes. The most memorable books about the Iranian Revolution have tended to illuminate either the revolution's theology and eschatology (Roy Mottahedeh's "The Mantle of the Prophet") or its worldly politics (Nikki Keddie's "The Roots of Revolution"). James Buchan's Days of God, published last year in the United Kingdom and now here, approaches both sides of this tragic tale, starting in the early twentieth century and leading to their inevitable collision, "like Titanic and iceberg," in 1979. It may be the best single general-audience book on the Iranian Revolution.
Buchan's book shows both Shah Mohammad Reza Pahlavi and Khomeini as terrifically flawed individuals, each empowered by external forces in ways that made their clash more violent and its aftermath even worse. The shah's great flaw – an odd one for an autocrat – is his inability to wield power firmly. Khomeini's great flaw – an odd one for a scholar – is his dull mind, inflexible and willfully uncreative, to the point of malice.
---