Radiance of Tomorrow
Former child soldier Ishmael Beah offers a quiet tribute to human resilience.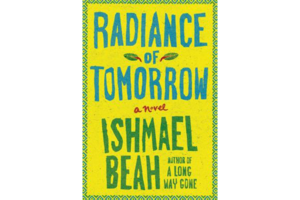 Ishmael Beah was 12 when his family was killed during Sierra Leone's civil war. He later became a child soldier, writing about the brutal acts he was forced to commit as a young teen in his searing 2007 memoir "A Long Way Gone."
"A Long Way Gone" became an international bestseller, with more than 1.5 million copies sold, according to its publisher. The memoir has been taught widely in colleges and universities. Beah, who was rescued with the help of UNICEF in 1997 and brought to the United States, has since become a UNICEF ambassador and advocate for children affected by war.
The 33-year-old writer returns to the aftermath of that war in his humbling first novel, Radiance of Tomorrow, which uses the gentle, haunting language of fable to describe a heartrending present.
Beah's memoir came under scrutiny after Australian journalists at a Rupert Murdoch-owned paper raised questions about the veracity of certain incidents and the timeline during which they occurred.
That won't be a factor for the novel, which uses fiction to examine the possibility of creating a future in the wake of such an all-engulfing past.
When "Radiance of Tomorrow" opens, Mama Kadie and two other elders have returned to the village of Imperi.
The village has been abandoned since Operation No Living Thing, when the soldiers came, torturing and killing everyone they could find. The few survivors have lived in a kind of limbo, hiding for years from the violence of the warring factions.
"Every life seemed on hold," Beah writes. "Nothing was sure in either direction; everything was temporary, and yet it went on for years."
The elders cleanse the village, giving their loved ones a proper burial. Then, slowly, survivors start to return. The novel centers around Bockarie and Benjamin, the village's two teachers, who are trying to build new lives for themselves and their families.
---