Carlos Fuentes: Tribute to a Mexican literary and political icon
Carlos Fuentes belonged to a generation of Latin American writers who were both literary and political, author and social commentator. Fuentes was a public intellectual.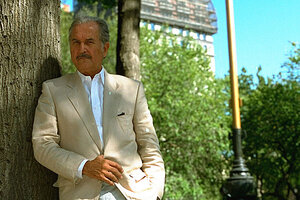 AP Photo/Rick Maiman, File
Whatever they may have thought of his politics, anyone fortunate enough to have conversed with author Carlos Fuentes couldn't help but be taken by his patrician good looks and his love affair with language.
I was struck by this the first time I met Fuentes at his Mexico City home in 1989 following the publication of "Christopher Unborn," his Orwellian story of the "Makesicko Seedy" capital narrated by a fetus.
And I saw it again nearly two decades later over lunch in Los Angeles, where he was promoting the English version of his book "The Eagle's Throne," a satire on Mexico's revolutionary history and political baggage.
RECOMMENDED: Five best novels by Carlos Fuentes
Fuentes, who died Tuesday, loved good food and conversation, perhaps most of all when served up together. Words spilled out of him like water, and he played with them like a child frolicking in the sea.
Unbeknownst to Fuentes, I was interviewing him for his obituary, which is an awkwardly common practice in journalism. We keep prepared obits of famous people on file. In most cases reporters don't tell the subject, as I did not. I also never wrote the obit, but now I find I want to share a bit of the delightful afternoon in which we discussed life, art and politics at the classic Water Grill with our spouses.
---