Shirley Jones on her racy new autobiography
Shirley Jones paints a different portrait of herself in her new autobiography, "Shirley Jones." The actress, who played a mother on "The Partridge Family," offers a racy view of her private life.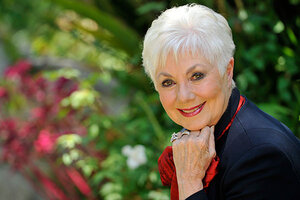 Chris Pizzello/Invision/AP)
Shirley Jones opens the door to her house and appears every inch the ladylike Marian the librarian or sweet farm girl Laurey or cheerfully steady Mrs. Partridge, offering a warm smile and handshake.
Her elegant, modestly high-necked jacket is black, her makeup is discreet, and her silver hair tidy. Jones' living room has the sort of traditional furniture and knickknacks (exception: a prominent Academy Award) that would fit any suburban house.
It all adds up to the publicly familiar Shirley Jones, whose crystalline soprano voice and dewy prettiness made her an immediate star in the 1950s film versions of "Oklahoma!" and "Carousel" and who captured a subsequent generation of fans in TV's "The Partridge Family" in the 1970s.
Then there's "Shirley Jones," her new autobiography (written with Wendy Leigh and published by Simon & Schuster's Gallery Books imprint) that turns the 79-year-old actress' image on its head in startling — even shocking — ways.
"So bring out the smelling salts, hang on to your hats, and get ready for the surprise of your lives!" she writes, coyly, in the book's introduction. It's not false advertising.
There's a recounting of her early life and dazzling career that included working with two musical theater masters, Richard Rodgers and Oscar Hammerstein, as well as many of Hollywood's top actors, including Marlon Brando (king of the retakes to exhaustion, Jones said), Jimmy Stewart (charmingly ditsy) and Richard Widmark (the only co-star she fell in love with).
But a substantial part of the book is spent on her troubled marriage to the late Jack Cassidy, the glossily handsome actor and singer whom she describes in a passage as her first lover and "sexual Svengali," and whose lessons she shares candidly.
---