Just Kids
MONITOR STAFF PICK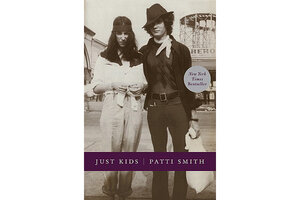 In Just Kids, Patti Smith's coming-of-age memoir set in the late 1960s, early-'70s New York art and music scene, the now 60-something punk rock icon reveals a gentler more lyrical heart than does her intelligent but hard-edged poetry set to music. I'm really liking this strong woman and getting a vicarious thrill in walking with her in her starving-artist's huaraches as she falls in love with a young Robert Mapplethorpe, becomes his muse, and mingles with the likes of Jimi Hendrix, Sam Shepard, Andy Warhol, William Burroughs, and Allen Ginsberg. I feel like I'm "making the scene" ... finally.
---
Follow Stories Like This
Get the Monitor stories you care about delivered to your inbox.